Theme: Looming technologies in Pharmaceutical Formulations and Drug Delivery
Pharma Formulations 2019
Details of Pharma Formulations 2019 in Amsterdam, Netherlands:
| | | |
| --- | --- | --- |
| Conference Name | Place | Date |
| | Amsterdam, Netherlands | October 23-24, 2019 |
After the successful completion of the 15th International Conference on Pharmaceutical Formulations & Drug Delivery, Conference Series with great pride and honour announcing its 16th International Conference on Pharmaceutical Formulations & Drug Delivery which is going to held in Amsterdam, Netherlands during October 23-24, 2019. This Pharma Formulations 2019 includes a wide range of Keynote presentations, plenary talks, Symposia, Workshops, Exhibitions, Poster presentations and Career development programs
Why to Attend???
Pharma Formulations 2019 Conference is a multidisciplinary program with broad participation with members from around the globe focused on learning about formulations and drug delivery and its advances. This is your best opportunity to reach the largest assemblage of participants from Pharma research community that is from academia, drug delivery entities, medical groups, related associations, societies and also from government agencies, pharmaceutical, biomedical and medical device industries.
Pharma Formulations 2019 will discuss various disciplines involved in the drug formulation procedures and drug delivery technologies; it will educate health care researchers about design, operation, organizing, research computing, regulatory aspects and reporting of formulations. This conference conduct presentations, distribute information, meet with current and potential scientists, make a splash with new pharma research developments, and receive name recognition at this 2-days event. World renowned speakers and the most recent techniques, developments, the newest updates in formulations and drug delivery are hallmarks of this conference.
Who Should Attend and Who You'll Meet
Directors/Senior Directors/Executive Directors and Vice Presidents/Senior Vice Presidents/Executive Vice Presidents and Heads/Leaders/Partners of
• CROs and CMOs
• Pharma Research Sites
• Pharma/Biotech and Medical Device industries
• Hospitals, Associations
Medical Directors, Principal Investigators, Methodologists, and other Pharmaceutical research professionals along with Academicians: University Faculties like Directors, Senior Professors/Assistant Professors/ Associate Professor, Research Scholars, scientists who are related to pharmaceutical research.
Track 1: Pharmaceutical Formulations: Academic and Industry Perspective
Increasingly, medicines research is moving from 'big Pharma' to small biotech companies and start-ups. To succeed in this new environment, scientific skills are not enough employers and financiers also need to be confident that the people they are working with possess the entrepreneurial skills to grow and sustain a business effectively. Pharmaceutical formulation development enables development of robust and compliant formulations and resolve difficult challenges encountered during preclinical and clinical development.
Track 2: Pharmaceutical Research and Development
For developing a new medicine it will take nearly 10-15 years and on average and costs an average of $2.6 billion. In discovery procedure comprises the initial stages of research, which are intended to recognize an investigational drug and perform primary tests in the lab. This first stage of the process takes three to six years. By the end, investigators hope to identify a capable drug aspirant to further study in the lab and in animal models, and then in people. These developments offer great ability, but also add complexity to the R&D process. In order to ensure the safety and efficacy of personalized therapies that are used along with diagnostics, clinical trial protocols must be improved and increased.
Track 3: Drug Designing and Development
Researchers discover new drugs through insights into a disease process that allow researchers to design a product to stop or reverse the effects of the disease. Once researchers identify a promising compound for development, they conduct experiments to gather information on how it is absorbed, distributed, metabolized, and excreted, best dosage, Side effects, how it interacts with other drugs and treatments and its effectiveness as compared with similar drugs.
Bringing one new drug to the public typically costs a pharmaceutical or biotechnology company on average more than $1 billion and takes an average of 10 to 15 years. Each drug undergoes a stringent process of discovery, development, approval and finally, public use.
Track 4: Pharmaceutical Excipients Development
Pharmaceutical excipients have a vital role in formulations. Choosing of excipients is an important in Drug Development. Excipients will have the ideal pharmacokinetic properties. Existing regulations and guidelines indicate that new (novel) excipients should be treated as new chemical entities with full toxicological evaluation. Excipients are now known to have defined functional roles in pharmaceutical dosage forms. Excipients can influence both safety and efficacy outcomes of the drugs. Excipients play a vital role in Drug delivery systems. Excipients are designed to be biologically inactive, removing this barrier could provide a potentially immediate, low-risk solution to the current shortage of new drug formulations.
The global excipient market size is expected to grow to USD 6.9 billion by 2025, a compound annual growth rate (CAGR) of 6.02% from 2017 to 2025.
Track 5: Novel Drug Formulation Procedures
Novel Drug Formulation Procedure is an innovative drug development method which focuses to employ the novel methodologies developed by pharmaceutical industry for a specific intentional use in pharmaceutical Research and development.
Novel drug procedure with unique mechanism offers a much needed treatment option to improve the condition. Bioavailability of the API may be exchanged off when attempting to modify entry of the API due to parts, for instance, gastric upkeep or bypassing the absorptive "window" of the duodenum.
Track 6: Pharmaceutical Nanotechnology: Challenges and Opportunities
Pharmaceutical nanotechnology is most innovative field in the pharmaceutical industry. Nano technology is dealing with new emerging technologies. Application of nanotechnology in imaging, diagnostics and therapeutics is considered as an important factor. The drug delivery system positively impacts the rate of absorption, distribution, metabolism, and excretion of the drug or other related chemical substances in the body. Within regulatory boundaries thermodynamics and nanotechnology are considered to be evolving tools to provide new and integrated knowledge for the production of new medicines.
Nanotechnology speaks to a stage for creating progressive changes and enhancements to a wide range of parts of pharmaceutical assembling. Pharmaceutical nanotechnology has provided fine-tuned diagnosis and focused treatment of disease at a molecular level. Nano technology is having an utmost importance in Gene therapy.
Track 7: Pharmaceutical Formulations: Types and Novelties
Pharmaceutical formulations vary on the route of administration. Eternal formulations prolong the action of duration of drug. Eternal formulation includes tablet, capsule and sustained release dosage forms. Parenteral formulation impacts both the safety and efficacy of drug.
The effect of the dosage form depends on the route of administration. A low medication load may cause homogeneity issues. A high medication load may posture stream issues or require extensive containers if the compound has a low mass thickness.
Track 8: Bioavailability and Bioequivalence Studies
Bioavailability and Bioequivalence are designed to FDA evaluation of the safety and effectiveness of a product .BA for a given formulation provides an estimate of the relative fraction of the orally 94 administered doses that is absorbed into the systemic circulation. Bioavailability and Bioequivalence mainly focus on the release of a drug substance from a drug. Several in-vitro and in-vivo methods are used to measure the bioavailability of the drugs. For BA and BE studies a single-dose, fasting study be performed. BA studies provide other useful pharmacokinetic information related to distribution, elimination, the effects of nutrients on absorption of the drug, dose proportionality, linearity in pharmacokinetics of the active moieties and, where appropriate, inactive moieties.
Track 9: Pharmaceutical Analysis Methods
For the administration of drugs various chemical and instrumental methods were developed at regular intervals which are involved in the estimation of drugs. Analytical instrumentation and methods play an important role. Different analytical techniques and electrochemical methods like Chromatographic techniques, HPLC, Gas chromatography. From the stages of drug development to marketing and post marketing, analytical techniques play a great role in understanding the physical and chemical stability of the drug, identification of impurities. Analytical techniques are mainly used to determine the safety and efficacy of the drug
Track 10: Challenges in Drug Administration
Medication are used to prevent and illness. Depending upon their site of action and safety and efficacy of drug drugs can be administered through a variety like oral, parenteral, Transdermal, Intradermal etc.. While administering a drug we have to consider the possible side effects and dangerous reactions also. The Dosage of the drug has to be carefully determined. In US, it has been estimated that 80 per cent of active ingredients and 40 per cent of the final drug products are imported. Medicine slant and bolster significance have been surveyed by taking a gander at the self-association of no less than two drugs open under various trial conditions, including choice procedure, dynamic extent fortress timetables, and chain stronghold logbooks.
Track 11: Drug Delivery Technologies
Particle Sciences has a great deal of successful experience in the development of successful delivery systems for many types of APIs and sites of action. Drug delivery technologies enhance drug absorption, efficacy, and patient experience. Enhancing the drug delivery technology of final pharmaceutical formulation can increase its commercial success. Drug delivery systems have been used in delaying drug clearance processes. Drug delivery approaches have their advantages and limitations. Drug delivery approaches include solubilization, permeability enhancement, modified release (MR)
The global drug delivery technology market is projected to reach USD 1,669.40 Billion by 2021 from USD 1,179.20 Billion in 2016, at a CAGR of 7.2% during the forecast period. The North American drug delivery technologies market is projected to reach USD 758.7 Billion by 2021 from USD 520.0 Billion in 2016, at a CAGR of 6.5% during the forecast period.
Track 12: Novel Drug Delivery Systems
Drug delivery systems control the pharmacokinetics, pharmacodynamics, non-specific toxicity, immunogenicity and efficacy of drugs. NDDS is a combination of advance technique and new dosage forms which are far better than conventional dosage forms. Novel drug delivery system classified in to different types based on the diffusion types. Drug Delivery Carriers show great promise as drug delivery systems. Drug delivery may be either active or passive process. These are designed to target the site specific region, in order to achieve desired therapeutic effect, thereby reducing the side or toxic effects. NTTD Increases the efficacy of the drug and decrease side effects.
The global market for drug delivery systems is expected to rise at a compound annual growth rate (CAGR) of 5% and reach nearly $175.6 billion by 2021.
Track 13: Wearable Drug Delivery
These are changing the world of drug delivery and preventing the patients from continuous bulk ambulatory devices. Wearable drug delivery device delivers insulin to the wearer. These are developed for dosing a range of drugs such as hormones, analgesics, anti-hypertensives. Large doses 5ml to 50 ml can be comfortably be self-administered by the patient at home by using the Wearable Drug Delivery devices. The life cycle of the product can also be increases. Wearable technology speeds the Formulation and development.
The annual growth rate is expected to reach USD $824 bn by 2025. The size of the market opportunity for LVI devices alone has been estimated at $8.1 billion by 2025, with over 50% of this driven by devices to deliver drugs for cancer and related conditions.
Track 14: Transdermal & Intradermal Drug Delivery Systems
Transdermal Drug Delivery system is an integral part of novel drug delivery system. Drugs having long pharmacokinetic half-lives are considered to be Unsuitable for transdermal application. By the increased number of marketing authorization applications together with recent scientific developments for transdermal patches, the need for clear guidance on specific requirements for this dosage form increased.
The emergence of technological innovations in transdermal patches is expected to provide the market with lucrative growth opportunities over the coming years. Transdermal Drug Delivery system was valued at $32,516 million in 2016, and is estimated to reach $61,689 million by 2023, growing at a CAGR of 9.5%.
Track 15: Drug Delivery approaches for Parenterals
Parenteral Drug Delivery has been developed alternative to the normal route of administration. The success depends on clinical as well as on patient compliance. This route is mainly used for the drugs having poor aqueous solubility and this route improves the patient compliance and decreases the systemic availability. Chitosan is used as micro particles, liposomes, granules, and gels for oral and parenteral drug delivery. Parenteral administration route is the most common for delivery of active drug substances with a narrow therapeutic index. This route of administration may cause less cardiac attacks and respiratory attacks. Parenteral delivery still remains the major mode of administration for protein and peptide therapeutics
Track 16: Drug Delivery Devices: Approaches and Manufacturing
A new class of drug delivery device which can inject doses far larger than today's syringes or auto injectors has developed i.e., Bolus Injectors having the capability to deliver more than 1 ml of a drug subcutaneously in a simple, reliable, and inexpensive manner. In the last 12 years, drugs have been delivered using self-regulated and Nano-technology systems. The manufacturers need to consider clinical guidelines and regulatory requirements governing combination products also differ from both pharmaceuticals and medical devices.
To change that perception, the FDA last year announced $40 million to a new Medical Device Innovation Consortium (MDIC) charged with simplifying the process of designing and testing new technologies. With input from industry, government, and other nonprofit organizations, public-private MDIC will prioritize the regulatory science needs of the medical device community and fund projects to streamline the process.
Track 17: Pharmaceutical IPR and Regulatory Affairs
Development of a new pharmaceutical product requires at least 15 years because of changes in the regulatory. Regulatory Affairs Department acts as the interface between the pharmaceutical company and the regulatory agencies across the world. Regulatory authorities act a vital role for approval of generics.
Regulatory Affairs contributes essentially to the overall success of drug development, both at early pre-marketing stages and at all times post-marketing. Regulatory Affairs professionals can play a key role in guiding drug development strategy in an increasingly global environment.
North America and Europe contribute about 57.0% of global pharmaceutical sales. The global regulatory affairs outsourcing market size was valued at USD 4.53 billion in 2016 and is expected to grow at a CAGR of 11.9% over the forecast period.
Market Analysis
Pharmaceutical Formulations and Drug Delivery Conference will discuss effective formulation and delivery technologies for enhancing solubility and drug delivery. Pharma Formulations 2019 aims to aggregate leading experts from around the world who will discuss on formulation and delivery, and show how they are developing poorly soluble drugs into scientifically sound, patient-centric formulations, and reducing their product development timelines.
Why to attend???
Opportunities to meet with highly qualified peers to validate strategies. Leading industry speakers and luminaries. Learn how pharma Formulations 2019 can help your company with its products and services. Take advantage of the breadth and depth of content/ issue which helpful. Sessions are designed to provide attendees with the latest insights.
Glance at Market of Drug Delivery and Formulations
The United States is the world's largest market for pharmaceuticals and the world leader in biopharmaceutical research. The global market for pharmaceutical Formulations was $70.1 billion in 2017 and $68.9 billion in 2019and this market is expected to rise at a compound annual growth rate (CAGR) of 2.3% from 2013 to 2018 and reach $77.1 billion by 2018 and the global advanced drug delivery market should grow from roughly $178.8 billion in 2015 to nearly $227.3 billion by 2020, with a compound annual growth rate (CAGR) of 4.9%.The major attraction includes Liberty Bell, Franklin Institute, Eastern State Penitentiary, Barnes Foundation and many more.
Active Pharmaceutical Ingredient Market:
Transparency Market research states the opportunity in this market will be worth US$219.60 bn by 2023 from US$134.7 bn in 2015. Between the forecast period of 2015 and 2023, the overall market is expected to expand at a CAGR of 6.3%. Between the forecast period of 2015 and 2023, the overall market is expected to expand at a CAGR of 6.3%.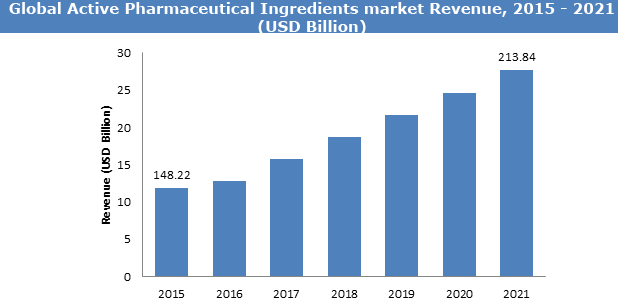 Pharmaceutical Excipients:
The global pharmaceutical excipients market is projected to reach USD 8.1 Billion in 2021 at a CAGR of 6.1% in the forecast period 2016 to 2021. The rising demand for new drug delivery systems, greater understanding of the functional benefits of excipients, growing pharmaceutical industry, and patent expiries of several blockbuster drugs are positively impacting the overall growth of the market.
Global Pharmaceutical excipients Market, by Region
Germany
France
U.K.
Italy
Spain
Rest of Europe (RoE)
China
Japan
India
Rest of APAC
Latin America
Middle East & Africa
To share your views and research, please click here to register for the Conference.
To Collaborate Scientific Professionals around the World
Special Issues
All accepted abstracts will be published in respective Our International Journals.
Abstracts will be provided with Digital Object Identifier by
---
Conference Series LLC LTD Destinations
Webinars & Conferences By Continents